(Photo Credit: Melanie Aguilar)

The August Bank Holiday always brings with it a couple of certainties: bad weather, Notting Hill Carnival, depressed teachers looking at the start of another year, proclamations that Summer is over and of course the first Christmas adverts on the TV. But alongside all that, the weekend contains one of the biggest Music Festivals in the world: Reading & Leeds Festival. As a Festival it's landscape continues to evolve. The introduction of more stages a couple of years ago has allowed this event to truly cater to fans within all kinds of genres of Music and has allowed the Heavy Scene to thrive once again at an event which felt like it was beginning to turn its back. From the biggest Metal band of all time, to a Mariachi alter-ego, we've got it all covered in our review from READING FESTIVAL 2015. Written with support from Melanie Aguilar.

Friday

When we posted our review of Download Festival a couple of months ago, we were quite serious in suggesting that The Lounge Kittens should open every day of every festival. Well, two months down the line and post a Mariachi El Bronx (10/13) performance we may need to revise that slightly. Maybe they can alternate? Anyway, the Mariachi band came on bright and early to open up Reading's Main Stage on Friday and brought with them a show which delivered just about the right dose of fun and madness needed to blow away any cobwebs of those who got a bit overexcited upon arrival on Thursday. We unfortunately didn't catch The Bronx proper later in the day, but the consensus was generally that the Mariachi show was actually the more fun of the two. And if you have no idea what we're talking about with this band, it is The Bronx's Mariachi alter-ego band. As mad as it sounds.

Moving across the site we had our first exposure of the excellent line up down on the Lock Up/Pit stage. Favourites of ours at Room Thirteen, God Damn (11/13) smashed their way through a short set which amplified perfectly their gritty and savage breed of Heavy Rock satisfying both existing and new fans alike. Riff wise there is a real Grunge element ingrained in the music and with Thom Edward's screams it is not that outlandish to throw in the Cobain comparisons on this hallowed turf.

Going back over to the Main Stage and we have our first dud of the weekend. Panic At The Disco! (5/13) came on stage full of energy and glamour, but the set itself was just poor. As a festival set there wasn't that much in the way of some of the older hits, instead a lot of the focus being on the more recent, dire, material. This feels like a band rebooted - they're appealing to a whole new wave of fans, and whilst a fair lot of them were having a good dance, there were also a lot of people looking frankly unimpressed. Brendon Urie's random high pitched screams every now and again also leaned towards being grating rather than whatever it was he was going for. The 'set-saver' was actually their cover of Bohemian Rhapsody, which they nailed almost flawlessly. Next up on the Main Stage were All Time Low (8/13) who delivered an impressive performance to what felt like an absolutely huge crowd. All Time Low keep it simple, they know what effective Pop Punk sounds like and they're not messing around with that formula. With the added doses of humour (which at times got a bit too much with the pervy stuff), and picking out a good 20-30 fans from the crowd to join them on stage for Time-Bomb, the band performed a great mid afternoon slot.

Moving back in to the Lock Up, it all got a bit weird. In the starkest contrast to the fun filled commercially massive offerings on the Main Stage, Bo Ningen (11/13) brought the dark and crazy. The Japanese four piece would have been generally unknown to the majority of people in the crowd, but there is no doubt they have left a lasting impression on every single person in attendance. The band mix crazy erratic bits which sound almost Math-y, with some brutally heavy Doom riffs a la Black Sabbath. To add to the general madness, they don't speak a word of English. No one really knows what is going on; they just know it sounds incredible.

Moving across to the second stage and closing out our day were Nu Metal giants Limp Bizkit (11/13). As a band, nothing they're doing is relevant anymore, instead they've become the perfect festival act. Let's face it, they're just so much fun live. Opening with Rollin', the crowd absolutely erupted in to one of the loudest sing alongs all weekend. Fred Durst exclaimed that he wanted everyone to go all the way back to 1999 and for an hour or so they did just that. The only downer in the set really was Gold Cobra which everyone seemed to utilise as an opportunity for a bit of a breather. There is also room to argue that if they didn't mess around so much they'd be able to get through more tracks. Between the elongated break downs at the end of tracks and the random covers medley (which to be honest was great), it just felt like so many tunes were unnecessarily chopped. Overall though, Fred Durst and co. delivered what has always been their best aspect - an incredibly fun live experience.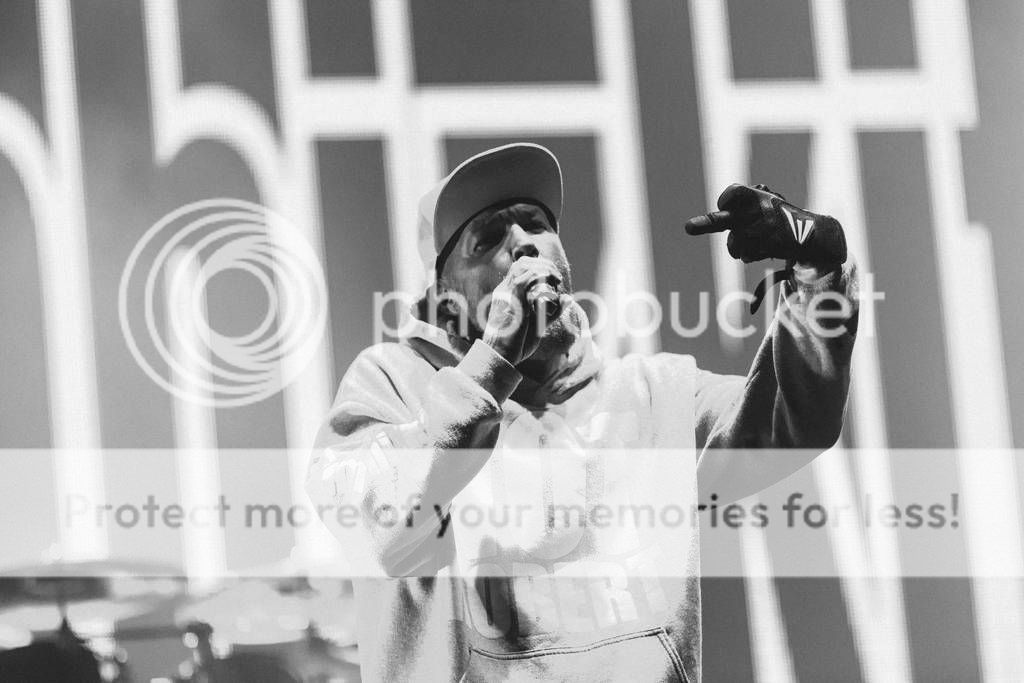 (Photo Credit: Adam Elmakias)


Saturday

With easily the biggest crowd to open the Main Stage in a very long time, BABYMETAL (10/13) came out to a huge reaction. As we noted in the lead up to this festival, when watching BABYMETAL you cannot help but look across the faces of everyone watching. There was joy, anger, confusion and general vacant looks across the crowd - what else are you going to get with three little Japanese girls singing erratically over some of the heaviest riffs you'll ever witness? Who knows how long this phenomenon will last, but on the evidence of today and the fact they've got a show at Wembley Arena next year, it could be a while yet.

The Lock Up evolved in to The Pit overnight, and we got the chance to check out a stomping performance from The One Hundred (9/13). Taking a sound similar to Enter Shikari the band mix electronics with some huge break downs. They got a good few going down in the crowd and served as a perfect warm up for the bedlam taking place across the rest of the day on this stage. The band immediately following them HO99O9 (11/13) was particularly chaotic. If you ever wanted a lesson, as a band, in leaving an impression then check these guys out. Pronounced 'Horror', the Experimental Hip Hop duo actually delivered one of the heaviest sets all weekend. Blending some absolutely huge beats and riffs, it was less Hip Hop and more Old School Hardcore a la Biohazard or Madball with the vocals. Both band members spent more time in the crowd than the stage, continually keeping everyone engaged, adding a genuine element of danger to their performance. It is difficult to find any new, and original, artists who bring this element of danger to a live performance anymore so it was truly great to see.

Back to the Main Stage then, and one of the biggest stories of the festival this year. Alexisonfire (8/13) announced their return from hiatus (which let's face it, wasn't that long anyway), and the biggest dates on the short tour were all set to be Reading and Leeds Festival. They attracted a large crowd, and the anticipation across the site was definitely high, but with all that said there was just a feeling that it was all a bit underwhelming. For a start they suffered with some really poor sound. It was extremely quiet at times, and when they did come on stage it all just felt a bit messy. As a unit they just didn't all seem to be that in sync, whether the break has left them rusty or not who knows, they just didn't hit the sweet spot. Dallas' vocals were excellent, and it was good to see them back, but again as a performance you'll probably find people overstating how good it actually was.

Following on from that were a band who themselves are proving to be a big story in the festival landscape. Royal Blood (10/13) have risen through the ranks so quickly over the last year or so, it is very easy to forget that as far as material is concerned they haven't actually got all that much to play with. With that said, you're almost certainly looking at a future headliner. If the new album they release explodes in the same way as the EP material did, and more, then with the size of the crowd they pulled this weekend it is impossible to argue anything different. Admittedly, on stage they don't have the greatest presence, but that is probably more to do with the fact that it is literally two people on an absolutely massive stage. Some sound issues did impair their set slightly as well, with the drum sound becoming overbearing at points. It is all part of the development though, and with tunes like Figure It Out, Little Monster and Come On Over already in their arsenal and setting huge crowds on fire, then who knows where this Brighton based duo could end up.

With a quick hop, skip and a jump back over to The Pit, the returning Metalcore unit Atreyu (9/13) delivered a perfect festival set for old fans. They've got new material, but with a running order completely destroyed on this stage by this point they were reduced to a very short set. Their Bon Jovi cover understandably gained the biggest reaction, but the band were suffering through the fact that many were now there for Gojira who were meant to be on at the time.

If Royal Blood are future headliners, then with another little pinch of certainty, Bring Me The Horizon (12/13) will absolutely be headlining an event or two in 2016. It is difficult to think of a band who have had a more dramatic turnaround than BMTH. Sempiternal was their moment and it is easy to see why they stick mainly to that material in a live festival set. But these tracks now sit alongside some of the newer material they've been putting out recently. The band opened with Happy Song and going by the sing along you'd think this track had been out for years. This preceded both Shadow Moses and House Of Wolves which sounded as massive as ever, with pits going back as far as the sound desk. Speaking of pits, when the band launched in to Antivist it looked like a natural disaster had swept across the crowd. Ending on Drown it all just felt very triumphant. Bring Me The Horizon have taken the mantle and are leading the way for British Heavy Music whether you like it or not.



(Photo Credit: Adam Elmakias)

So then, to the heaviest band on the line up. Nope we've not quite reached Metallica yet, instead we are talking about the absolutely brilliant Gojira (13/13). The Pit stage was absolutely rammed by the time they hit the stage later than advertised, and with Oroborus as an opener it felt like the pillars holding up the tent were going to cave in. Gojira don't do bad live shows, it just isn't a thing, and they brilliantly turn up to festival shows and just pick a set list which they feel like playing. There were a handful bitching and moaning at the end because Flying Whales was missing, but if you were left feeling underwhelmed after watching the band go from Backbone to L'Enfant Sauvage to set closer Vacuity then there is something wrong. Easily one of the most exciting Metal bands around at the moment delivering one of the most punishing sets Reading has ever seen.

On to the main event and the little matter of the biggest Metal band of all time headlining Reading Festival for a record fourth time. Metallica (13/13) have been in the UK and Europe almost every year since 2006 it seems so it feels like by now they shouldn't be surprising anyone with just how brilliant they are live. Whatever you think of Metallica, when you watch a performance like the one delivered at Reading this year no one can sit there and criticise them. With the fact they have been in the UK so much the risk they run is with the set list being too predictable. Seemingly aware of this, it was very clear that they'd given the full show a completely new rethink. Opening with Fuel before launching in to For Whom The Bell Tolls and Battery felt absolutely relentless. But it was some of the other less common tracks which they threw in to the set list which made it feel a bit more special. King Nothing (performed for the first time in the UK since 1999) sounded absolutely crushing, The Day The Never Comes triggered an absolutely massive sing-along which seemed to even have Hetfield taken aback slightly, and their cover of Bob Seger's Turn The Page halfway through the set was brilliant. With an encore featuring their Whiskey In The Jar cover as a moving tribute to Cliff Burton and the closer Enter Sandman with bouncy ball bedlam attached it was quite easily the best set of the weekend.



(Photo Credit: Sidney Bernstein)